Along the way of my illustrious blogging career, I've been tagged by good friends like
Cait
,
Terzah,
Rachael
, and other freaking awesome girls in their posts.
Usually, the posts included either a Q & A portion, or a "top blog posts" portion. Because I bring "disorganized" to a whole new crappy standard when it comes to my blog, I never answered a dang one.
BUT NOW I'M GOING TO MAKE UP FOR IT!!!!!!! IN ONE GLORIOUS COMBO POST!!!
Most Controversial Post:
Probably either
"My Two Cents On Blogging Popularity"
and one random one where
I was bagging on Lululemon.
It's weird because I'm not sure how I feel about either post now. Sometimes I take a side when I post and roll with it. It's the internet, no one can really hold me to these opinions, right? ;-)
Most Helpful Post:
Hah! Helpful? Ah jeez...you're readin' the wrong blog. Let's say the
Chile Rellano
recipe post because it's freaking delicious.
Post that didn't get the attention it deserved:
ALL OF MY POSTS DON'T GET THE ATTENTION THEY DESERVE!!!!
uhh...sorry. Ego got in the way.
Maybe the one about
William and Kate's Wedding
. It was kind of funny and I spent a long time on it.
Post I am most proud of:
Either the
Boston Marathon
one, or my
5k PR.
Just because they were good races, and good races always make for good posts :).
For the Q and A portion,
I'm kind of going to copy Sarah and
AR
who made up questions because no one asked them stuff. Because no one ever asks me anything either. However, if you have real questions about me, I would be SUPER flattered to answer, just ask (it's cool if you don't).
What's with the blog name?
Despite the fact that she lives with my mom now, I own a mini rex rabbit named Fiver. When I was a kid, I always wanted a rabbit. When I graduated college, I thought "no one can tell me what to do" and I drove to a farm in Livingston, Texas, and brought one back. And now my poor mom takes care of her.
Bottom line, I like rabbits. If your ears were 40% the length of your body, I'd find you adorable too.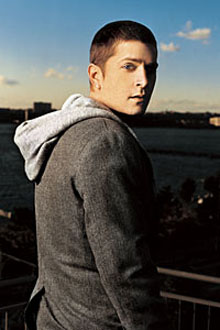 What celebrity did you have a crush on in high school?
Rob Thomas of Matchbox20. And every other singer in a band.
What are your running goals?
Since I'll never be a pro, I guess I just want to have fun. And hopefully PR my face off. I think goal one is more achievable.
In all seriousness, I'd like to continue to improve, but I'm having a hard time balancing training with my working and personal life. I love running though, so it's hard to ignore it and not give it a lot of time and effort.
Pie or Cake?
Pie. The kind with a crumb topping. Peach, Apple, or Cherry preferred.
Which Backstreet Boy Was your Favorite?
Brian Littrell. Without question.
Ain't nothin' but a hearrtttachhheee!
Best Piece of Running Advice?
Listen to your body, know your limits, and keep it simple, yo.
Anything you'd like to know about me?
Have you been asked any weird/fun /random questions on your blog (or in real life) lately?